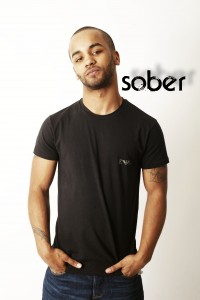 Ever since an early age Sober has had the talent to take the World by storm… Aged 14-16, Sober was a regular guest on the then popular radio station Delight FM performing a live set before So Solid's Oxide and Neutrino alongside So Solid Kids, influenced at the time by house and garage MCing was the road to take, regularly performing at raves and hotspots
Sober made his name locally and was quickly a sought after artist.
Aged 17-18 Sober got influenced into hip hop and rap and decided to form his own record label consisting of various artists called HNZentertainment.
He slowed down his tempo of MCing to rap and straight away started recording his first mixtape "Fighting My Way Through".
Aged 18-20 Sober recorded his second mixtape "Blood, Sweat and Tears" and was performing at various hotspots but chose not to release the mixtapes as it did not reflect his true talent.
Sober released his debut street album "Fighting My Way Through Da Official Disk" on 15th December 2010 via iTunes & play.com performing around London and the rest of the UK to promote his material in locatins such as Plymouth, where there is a strong urban music scene and music showcases and events in London whilst simultaneously releasing videos on YouTube.
In 2011 he released his next mixtape "2nd to none"…
Sober is currently working on his commercially focused, yet to be named EP, with first single "Tipsy" 2012 winning awards and featuring on Channel AKA. Second single "Why Does It Rain" 2013 has just been released and he plans to strategically release banger after banger to establish himself in the UK music scene.
Show your support and listen to the voice of the streets – there's a lot more to come.
Social Media:
Twitter: @HNZsober
Facebook: http://www.facebook.com/sober.hnz
Booking Email: hnzsober@gmail.com