Who is answering the questions?
Hi there! It's Aimee here, bassist in Redwire. Nice talking to you.
Can you tell us about the formation of Redwire?
D and Aimee met whilst working together and got chatting about music, They realised they had common interests and started jamming together and after a while D started writing riffs and some lyrics and we wrote some pretty good songs. At that point we decided to look for some other members to form a band. We found Mario early on, who began as a singer and later took on the rhythm guitarist role as well. After going through a few drummers, we finally found Mike to be our drummer.
How did you get to the band name Redwire, and what does it mean to you?
It doesn't really mean anything, and that's sort of the point. We like the idea of taking something with no meaning and giving it meaning through our music and us as a band.
To an unfamiliar reader, how would you describe your sound?
To start with, think of a throwback to the hedonistic 80s hard rock era. Guns n' Roses, AC/DC, Aerosmith .. all that pure aggression, and wild energy. Then add a modern twist, mixing in hints of punk, metal and rap. We try not to pin ourselves down to a specific sound, so if something feels right, we'll go with it.
What bands have influenced you over the years, and why?
Most notably Guns n' Roses: we love the riffs, the dynamic basslines, the emotive guitar solos, the wailing vocals, the pure rock n' roll of it all. We've got a bit of Oasis influence, and a bit of Mario's favourite band, Green Day. We've also been influenced by Heaven's Basement; their ability to mix elements of different styles together really appeals to us.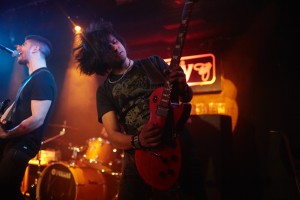 What made you want to have your EP be self-titled?
We didn't really think about it too much. Some decisions take ages to settle on, but in this case we were all in agreement from the start. For our first release, it seemed to make sense to say, "Here we are, this is Redwire. No apologies, and no explanations."
Can you elaborate on some of the main themes and influences that run throughout your self-titled EP?
It's mostly inspired by emotions and experiences, specifically D Goomani's. As the main songwriter, everything is an expression of something he has experienced. A lot of it is about wanting to get away, leave behind a life of limitation and regrets and make something better of your life. A lot of people can relate to that kind of sentiment.
What can you tell us about the recording process for your self-titled EP?
We recorded the EP with Lloyd Jukes at Bush Studios. One of the big decisions we made early on was we wanted a live sound. So about 80% of what you hear on the EP was all recorded in one take, all of us standing together in a room around the drumkit, looking at each other, rocking out like we would on stage. Vocals and some of the solos were overdubbed later, but the majority of it is very raw. Unfortunately, we've since found out that the mainstream national radio stations are so used to perfection and precision that they will not play tracks recorded in this way. So next time, we'll be doing it layer by layer, getting every little bit perfect before we move on. It's a shame in a way, but we have to meet the current expectations of what a professional recording sounds like.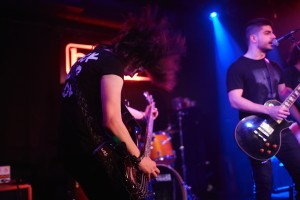 What song means the most to you from your self-titled EP at the moment, and why?
Born To Lose, because it really does represent us as a band, where we've come from, what we've achieved so far, and it's a statement of where we're going. It's a song about overcoming the odds and becoming the best you can possibly be.
What songs are you really enjoying playing live from your self-titled EP at the moment, and why?
It's either The Captain or Rock n' Roll Lies. They're both quite well known songs now and people enjoy dancing and singing along to them. We quite often join these two together in a big finale, and just go absolutely crazy with them. The crowd loves it, and that means a lot to us.
What was the hardest part about putting your self-titled EP together for you guys, and why?
Oh, the mixing, for sure! You think you've done the hard work when you've recorded everything? Not even close! Everyone always wants something just a little bit louder, and then that affects something elsewhere on the song, so another bit gets pushed up a bit too, and before long the whole song is just far too loud, so you have to pull it back and start again! We joke together about "half a decibel" because of fights that were had in the mixing studio!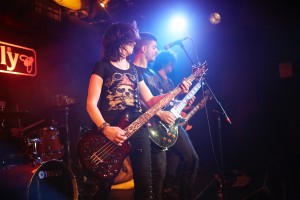 What can you tell us about your latest single?
It is a bit of a commentary on the state of the world today. It's gonna be quite an aggressive song, very guitar driven, with catchy vocal hooks. It's got a great singalong chorus, a wicked crazy guitar solo, and it's the first song that our current drummer Mike has written the drums for, and they sound amazing. And no, we can't tell you the title yet. Watch this space!
How did the artwork for your self-titled EP come together, and what does it mean to you?
The Redwire logo was envisioned and drawn by D Goomani. It's deliberately rough looking; we wanted something you could scribble on a piece of paper or on a chalk board somewhere and it would look approximately right. The background is black and scratchy, again that conveys the roughness of the band. We're very real people; we don't try to be what we're not.
Touring wise, can you give us a couple of personal highlights from your time on the road?
Touring is so much fun for us. It's the time we bond the best as a band. We pile into Aimee's motorhome (the tour bus) and drive off somewhere. Unload our stuff, play a gig, hang around to see the other bands, chat to whoever else is there, sometimes invite people to hang out in the tour bus with us. The entire touring experience is an enormous highlight as a whole. Spending time together as a band and with other like-minded people. Doing what we do best, and loving every minute of it.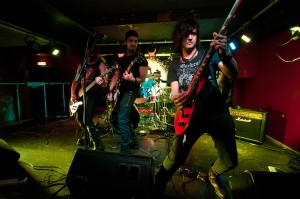 How would you say the sound of Redwire has grown/progressed over the years?
We're probably more creative as songwriters now, not afraid to experiment with different styles. Our very early material was fairly typical rock riffs with standard song structures. These days we feel freer to explore different ideas and go with what feels right. As the principle songwriter, D is now much more experienced at knowing intuitively what's going to work and what won't. We throw a lot of good ideas away early on because D just knows they are not going to work. He is always determined to get every song sounding the very best it could possibly be. One of our mantras is that every song should be single worthy.
What sets you apart from any other band out there right now?
One thing that sets us apart is that we don't write frivolous songs; every song has personal meaning and a message, and that comes through in our live performances, we aren't just performing, we're expressing ourselves. Due to this people always say they love our energy in live performances. We feel extremely passionate about our music, and we don't hold back on stage. But of course, you can't just have energy without skill. We practise hard to the point that we can rock out and put everything we've got into our performance without detriment to our playing ability. When you've got good songs, well-crafted, performed enthusiastically with great musical talent, then that sets you apart.
What is the music scene like in London?
Like the rest of the country, live music is dying rapidly. It seems many people would rather watch X Factor on television on a Saturday night than go and see pure talent live and personal right in front of them. Then you've got new high rise flats being built next to music venues, and people move in and complain about the noise! As a result, music venues are closing, or turning into bistro pubs only interested in acoustic open mic nights. We need to hold on to the few good rock venues we've got left, and support them in every way possible.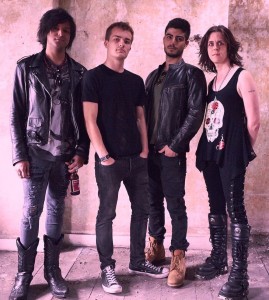 What can you tell us about Redrock Festival?
It's 12 hours of live music on the 2nd October, at the famous Dublin Castle in Camden Town, and it's all entirely free! It started out because we've come across lots of bands that have impressed us on our travels and we could sense they are doing it for the same reasons we are. So we thought it would be great to get them all together in the same place make an awesome day of music. We have a huge variety of acts performing. A few example include: Edwige, London – a little French lady we met busking at Oxford Circus. NitroVille, London – a female fronted hard rock band well known in the scene. Sofasonic, Hertfordshire – we competed with them for Rock At The Castle in Hertford, and stayed in touch ever since. Silent Jack, Birmingham – we saw them at Breaking Bands Festival and loved them. Mother Gaia, Sweden – stayed in touch after a London gig and even visited them them in Gothenburg. All the bands at the festival have been hand picked and have a personal connection to us. We like them as people, we love their music, and we're utterly convinced they're gonna put on an amazing show. We really want people to come along enjoy themselves, not just see the band that they know, but stick around and see what else there is that they don't know yet. We want to build up a sense of community around the rock scene, where it seems so lacking at the moment. Come along to Redrock Festival at The Dublin Castle, Camden on Sunday 2 October, from midday to midnight. It's free entry, and the bands are amazing. You will not be disappointed.
What else can we expect to see from Redwire in 2016?
We'll be recording a single, and releasing it along with a music video this year. We've also written a bunch of great new songs and we're looking forward to playing those live, so look out for lots of new gigs with new music. We're also anticipating something quite special around Christmas time, hopefully packing out the Corn Exchange in Hertford with a lot of other fantastic bands. Stay tuned for more information!