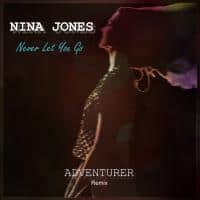 New pop starlet gets EDM makeover from dance producer duo
At the age of just 17, Nina Jones is an extremely talented teenage vocalist with a very promising future. Following the success of debut single release 'Never Let You Go' (download here), the teenage sensation is now gearing up for another single release, with a cover of Prince's timeless classic 'Purple Rain'.
However, alongside that release, Jones is going to be very busy with another track, further proof that she is getting some great buzz in music industry circles.
EDM specialist producer duo Adventurer, hot from working with the likes of Pendulum, Get Cape Wear Cape Fly, Young Guns and Pixie Lott, recently got hold of Jones' single 'Never Let You Go'. Having fallen in love with the track, they handpicked it for their very own brand of remix treatment, with some thumping results:
https://soundcloud.com/ninajonesmusic/nina-jones-never-let-you-go-adventurer-remix
The original 'Never Let You Go' was written by award winning songwriters Darren Parry, Dan Curtis and Laura Curtis.  Darren has achieved UK Songwriting Contest Award wins (2004 winner 'Pop'), USA 'Song Of The Year', USA 'Billboard' and USA 'Unisong' awards. Meanwhile, Dan and Laura Curtis have had songs recorded by Paul Potts, Broadway stars Ramin Karimloo & Lea Salonga and also wrote the successful, star studded charity track 'A Miner's Song'.
And now, with the single given a new lease of life thanks to the attentions of the highly rated Adventurer, Nina Jones and her song writing team can expect a whole new audience to sit up and take notice.
The 'Never Let You Go' Adventurer remix will be released on July 6th!
Nina Jones Links:
Soundcloud: www.soundcloud.com/ninajonesmusic
Facebook: www.facebook.com/ninajonesmusic
Twitter: www.twitter.com/ninajonesmusic