Las Vegas is best known for its bright lights, unforgettable attractions, and of course, the gambling, but the desert-based nightlife hub also plays host to some of the world's greatest performers.
With tourists flocking to the city's famous casinos, bars, clubs and venues daily, Vegas has become paramount in the music industry. Over the years legendary artists such as Liberace, Prince, Elvis Presley and more have graced the many stages it has to offer – and they've earned an impressive packet in the process.
Follow on below to see just how much some of these stars have earned over the years and how many shows they've performed in the process according to Betway Insider.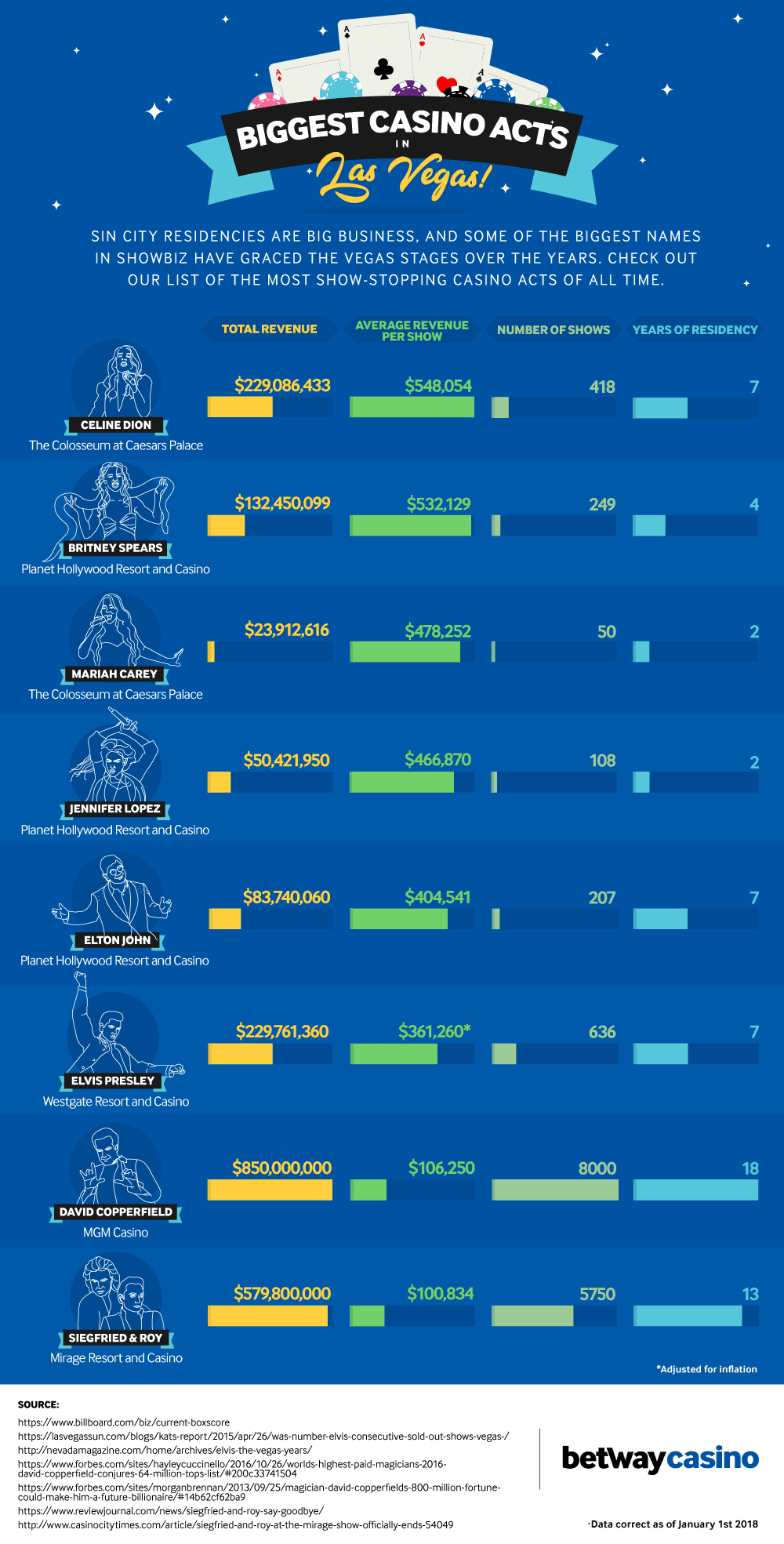 Located on the Las Vegas strip, the Colosseum at Caesars Palace is one of the resort's most popular venues for residency concerts. In addition to hosting stars such as Rod Stewart, Cher and Shania Twain, Mariah Carey is said to have amassed $23,912,616 from just 50 shows there. Taking the top stop from Carey, however, is Celine Dion who holds the record for the most shows performed there. Dating back to 2003, the singer has earned more than $229,086,433 through her residency making her the most profitable musical casino act since Elvis.
Planet Hollywood Resort & Casino is another hotspot for live music shows with Britney Spears, Backstreet Boys, Lionel Richie, and others having graced its stage. Back in 2016 J-Lo even made an appearance there with her summer shows successfully grossing over $1 million.
Possibly one of the most legendary artists to perform in Vegas to date is the king of rock and roll, Elvis Presley. The iconic singer reignited his career with a string of 636 sellout shows in Sin City between 1969 and 1976 with many of these taking place at the International Hotel and the Las Vegas Hilton. Now his memory lives on through the many impersonators who perform on the strip.
Las Vegas is truly one of a kind from its "what happens in Vegas stays in Vegas" mentality to its unforgettable, once in a lifetime performances. Check out the infographic above or head here for more on Las Vegas superstars.