We reach 60,000,000 people per month and by submitting, you have the chance to showcase your music video to our 2.9 million fans on Facebook and on all our other social properties. Best of all, it's FREE.
Please note: all submissions go through a screening process so that our audience get to enjoy great content from top quality artists. Submitting the form does not necessarily mean you will make the grade unfortunately, but we do have options for everybody.
Please do not be disheartened if you are not selected for the main page first time around – our team reviews each submission case by case. So if you do not get selected we encourage you to keep trying.
At MC, we are always on the lookout for great new music-related content so if you think you've got something that's worth a feature, fire it over. We will tag your social properties and include your important links to give you the exposure you deserve!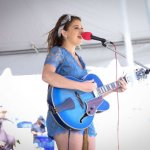 "In fifteen months our daughter went from an unknown 15 year old girl singing songs I her bedroom to her school and camp friends to a 16 year old with an EP, over a million views of her original music on social media, 24,000 Instagram followers, a sold out 200+ seat concert, coverage in newspaper and radio and walking the red carpet at Billboard and Grammy events in large part because of Music Crowns. They are super easy to work with, incredibly responsive, reasonably priced and simply have exceeded our every expectation. Even with a five hour time difference and never having a single in person meeting or phone call, they've helped Nikki reach a wide fan base and many opportunities simply via Facebook messenger and text. Every new artist should try them!"
Lisa Lickstein
Artist's Parent