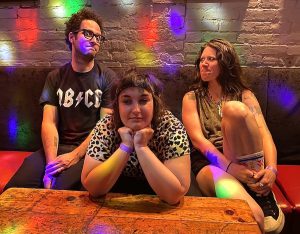 Brooklyn-based LGBTQ+ Punk Rock band MONTE. Entitled This is MONTE, this is the band's third EP and features a whirlwind of emotions and energy that is pure rock n' roll straight from the groin. The band delivers 5 songs filled with lust, longing, angst, love, and love lost. Frontwoman, Montclare, wrote the EP, drawing from personal experiences with love and pain, a relatable topic to most, but while also being refreshingly honest about her sexuality, and who these songs are about.
The EP ebbs and flows from hard 2000's and 90's style pop punk to Heavy Rock grooves, showing a wide and versatile range in their musical style while also staying true to their signature sound and tone. From the soaring guitar solos, catchy riffs, and 4 part harmonies to clever, whimsical, and dark lyrics, This is MONTE hits all the right spots.

The focus single, "T. D .T .T .M", means "Too Depressed To Touch Myself."  Besides the obvious, being too depressed to touch yourself, the song is about not being able to go about life without thinking of someone from your romantic past. In pure MONTE fashion, singer and guitarist, Caitlin Montclare takes a bad experience and makes a danceable and catchy track. 
This Is MONTE was produced by platinum record producer Barb Morrison, tracked by drummer Ismael Baiz at his studio Latin Experimental Records and tracked and mixed by Grammy Award nominated Jonathan Jetter, Jeremy Kinney & Matt Graff.
Listen to "T. D .T .T .M" and the full EP here!
MONTE was formed by singer and lead guitarist, Caitlin Montclare in 2017, later adding drummer and audio engineer, Ismael Baiz, and bassist Meghan Rose to the official line- up. Since becoming MONTE, the band has released several singles, two EPs and performed more than 50 shows throughout the United States, including renowned New York venues such as "The Knitting Factory" and "The Bowery Electric".
MONTE is influenced by a lot of bands from the late 80's and early 90's such as punk bands The Lunachicks, NOFX, Bad Religion, The Offspring and metal bands like Motörhead, Iron Maiden, Judas Priest, and Plasmatics. Montclare takes an old school sound and puts her own spin on it with the band adding interesting chord changes, riffs, and song structure. Drummer, Ismael Baiz likes to call this "The MONTE pocket"