Zachary Lee's newest single 'Once Upon A Time' is a perfect combination of nostalgic Disney references with the modern sparkle needed. Claiming he's "a sucker for fairytales" Lee's lyrics prove he's for the "true love's kiss" type of love. Referencing classic characters including Snow White, Peter Pan, and Frozen while splicing in lyrics from Hercules, Lee does a magical job of bringing our childlike ears to life. Not only are the lyrics cleverly addressed, but the blend of cheerful instrumentals helps bring the song to life.
Listen to the new single here:
"It's so important to me to believe that fairy tales can still come true. In some respect, it's what keeps my romantic side alive in hopes that I will find that person out there!" I hope it does the same for you!" – Zachary Lee
Similar to Lin Manuel Miranda, Lee finds a balance between rapping and singing, layered over a hybrid of Electronic Pop and EDM music. The track starts with the static pop of a record player and then swells into a beat that makes you want to get up and dance. Whether you've found your king or queen, are currently melting for the one you love, or are riding a carpet alone, Lee's 'Once Upon A Time' is just the song you need to keep your spirits up for your prince or princess to come. 
"One thing people need more of is hope. The hope things will get better, the hope that things aren't as dark as they seem, the hope that tomorrow is a new day and we can all live the life that we want as long as we don't stop believing I hope this song instills that in everyone" -Zachary Lee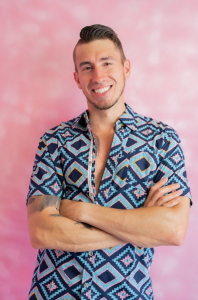 Who is your favorite Disney character? 
Flynn Rider – He's sarcastic, funny, has a slight bad boy side but truly cares! And I just love the arrogant smolder that doesn't work on Rapunzel.
If you could be one of the characters in this song who would you want to be and why? 
I would be Aladdin. He is in the main chorus and he is true to his heart and Jasmine knows it when he sings "take my hand and come with me " and "baby do you trust me." "We only have this night, once upon a time," is the main point of the song. He only has one night to show her the world and trust that he will keep her safe.
What sparked the inspiration for this song?
I always put Disney innuendos in my songs but never have I made an entire song about Disney. This basically encompasses my love for Disney while making it into a love song…This is my baby, that's for sure!
Who are the musical influences behind these songs? 
I listen to so many different artists. I grew up on classics like Styx, Journey, and Foreigner, and then in my teenage years all the pop-punk bands like Yellowcard, All-American Rejects, Red Jumpsuit Apparatus influenced me. But I wanted to do something a bit different so I took my inspirations and made them more pop-electronic which brought in the David Guetta, Calvin Harris, and Steve Aoki vibe!
What's next in line for you musically? 
I am going to produce more songs in this genre then start performing shows using this new genre as my backbone versus just playing an acoustic guitar. I want the crowd to really get involved. Ultimately getting this song and future songs heard across the world whether that be through streams, commercials, Disney itself, or other avenues is what's next!