Can you tell us about your experience performing blues and gospel music?
It has been a beautiful time to sing both genres. I have 2 bands that "know" me….what songs work best for me and them. The last several years I have been asked to perform gospel music, which I have been doing.
How do you approach interpreting and conveying the emotion behind blues lyrics?
It was hard for me at first. But, I listen, pay attention to my audience. I can see, feel they're need to have the Blues music ease their minds, spirits, and their minds. Capturing the attention of those listening to me is important to bring that "emotion", that just moment of relating to what I am singing, what I am talking about. That is the key of interpretation and being able to convey what I am singing.
What inspired you to pursue a career as a blues and gospel singer?
I have always sang gospel in church growing up. Singing blues came later in 1996. I was dating a bass player,  heard me sing Silent Night acapella one evening. He said he didn't know I could sing. Well, I said I didn't know either! Aftershave he convinced me to audition for the band he played in, Blues Music Works aka…BMW.
Well, did the audition, got in. Our band leader and mentor Al Leavitt, aka…BIG Al, was an avid bluesman. He loved the Blues from the 30s, 40s, and 50s! He played keyboard and sang! He was my influence for blues music. He encouraged me to listen to Koko Taylor, Etta James, Big Mama Thornton, Sarah Vaughn, Howlin Wolf, Muddy Waters. These are my influences also. But, my mother listened to blues. She played her blues music on the record player. She is another influence, inspiration for me!
How do you engage with your audience during a performance?
I can see the look on their faces, I can see the anticipation, the excitement. I am focused on this energy.
I may tell a joke (clean of course!) Or I may do a little story telling. Audiences love this and that is very important to me!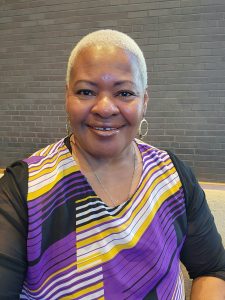 Can you walk us through your process for selecting songs to perform?
That's an easy one. I look at the venue I will be performing at. Majority of times the age ranges from late 30s to 70s! People love to dance,  so I choose songs that can dance to. I choose songs that tell a story, that at least one person in the audience can relate to.
How do you handle difficult or challenging performance situations, such as technical issues or an unresponsive audience?
I look at every single show as very challenging. I am patient. I do not get upset. That takes away of what I need to do. Besides, sound people love to work with me! I am easy going and don't get all rocked out!
Also, I can't remember when I played to an unresponsive audience!
How do you maintain the distinctiveness and authenticity of the blues genre while also making it appealing to modern audiences?
I make sure I address everyone in the audience. The modern audiences really get into what I am singing. Especially when I encourage audience participation! Works every time!
Have you collaborated with other musicians or artists in the past? How did that experience impact your approach to music?
Yes! With so many musicians! I loved it! I was able to sing what I needed to sing with the added pressure! What a relief it is!! It was laid back, I knew I was in good hands with the musicians and staff! Each time  I had blast! I can be creative and relaxed!
Can you speak to your knowledge of the history and cultural significance of blues and gospel music?
Well, my knowledge came from my parents, who were from the south. I listened to the stories they and their friends talked about. Life for them was not easy. Music and religion played a significant part of their lives.
Of course, according to them,  blues came out of gospel. The two are definitely separate. When someone was trying to get right with God, they were into gospel music. When someone wanted a good time, forget about their troubles, they were into blues music.
Both genres tell the stories of people, of beginnings, of endings. I have noticed the modern generation is listening to both, when I sing both.
I have noticed different cultures into blues and gospel.
How do you continue to develop your skills and push yourself creatively as a blues and gospel singer?
I continue to listen to other musicians. I continue to develop the musical side of me. I am teaching myself to read music, play the flute. I have musicians who write songs for me. I may come up with a title for a song and develop the outline, the concept for the song. I am open to my bandmates for their input. They do challenge me, put me to task, have me come out of the "box" so to speak.
Challenges are great me, as I can put my own "Miss Freddye " on them!