Photo Credit: @tokenbritphotography
17-year-old twins, Hannah and Grace from Newcastle, collectively known as Twayn, have just returned from Nashville, Tennessee where they competed along with ten other finalists in the Road to Nashville Song Writing Competition 2022 on Sunday 9th October on what, symbolically, would have been John Lennon's birthday.
The event was hosted at Nashville's Exit/In where the likes of Etta James, Johnny Cash, Billy Joel, Leonard Cohen, Red Hot Chili Peppers, Kings of Leon and Willie Nelson have also performed, to name just a few of the musicians who have played at this iconic venue since 1971.
The girls were delighted to come away with 2nd place out of an astounding 20,305 songs submitted from 31 countries around the world.
The Road to Nashville is one of the largest song writing competitions in the world.
Getting to this point for a song the girls wrote when they were just sixteen years old is an incredible achievement, not least since many of the finalists are more established musicians who already work in the industry. The sisters, Twayn, meanwhile, are still at school studying for their A levels but have hopes of becoming singer/songwriters once they have finished this, their final year.
Twayn's song, Sweet 16, is about the challenges faced by teens and the complex struggles of growing up, whether that be the coming and going of friendships, or peer pressures, self-doubt and loneliness.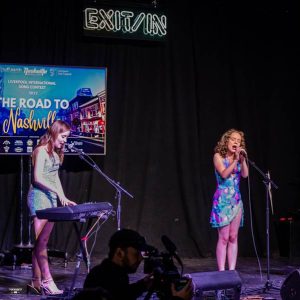 Photo Credit: @tokenbritphotography
The Road to Nashville song writing competition was co-founded by leading Social Psychologist Dr Shamender Talwar, who is Co-Founder of global charity The Unity of Faiths Foundation (TUFF) and Fellow of the Royal Society of Arts for his endeavours in trying to make the world a kinder place.
The competition is an unique concept whereby musicians submitting their entries can, at a click of a button on the website, request support from a life coach or psychologist, completely for free.
The partnership between Nashville and Liverpool was set up by Dr Talwar and his team at tuff.earth, including Daniel Xander – Director of Music, who have organised the competition and events along with legendary marketing guru Pamela Lewis in Nashville.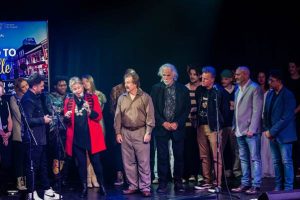 Photo Credit: @tokenbritphotography
Front row; from L-R:
Daniel Xander (tuff.earth) with the Judges: Pam Lewis (PLAmedia), Tim Witterman (One), Gary Morris (Country music and Broadway Legend), Regie, Jeff Cohen and (far right) founder of Tuff.earth, Dr Shamender Talwar.
The judging panel (front row, pictured with Daniel Xander on the left, above) for The Road to Nashville included (from left to right) Pamela Lewis (Owner of PLA Media: Garth Brooks, Trisha Yearwood, CMA's 'Artist Manager of the Year', MTV launch), Tim Wipperman (Managing Director of ONErpm), Gary Morris (Grammy, ACM and CMA award-winning winter/songwriter and Broadway Star), Regie Hamm (Five-time SESAC 'Writer of the Year') and Head Judge, Jeff Cohen (six-time BMI award-winning, Grammy-nominated songwriter, producer and publisher).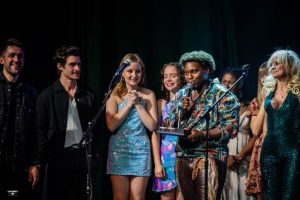 Photo Credit: @tokenbritphotography
L-R: Dan Xander (tuff.earth), Sean C Kennedy (3rd place), Twayn (2nd place), Edi Callier (winner) and Claire Simmo (presenter).
Edi Callier, a former contestant on FOX's The Four, was crowned the winner with his song 'Alone', and was presented with the Mic of Unity which was once used by The Beatles and had travelled all the way from Liverpool.
It has been an amazing few months for singing duo Twayn as the twin sisters also got into the Top 10 finalists of the Song Academy (SAYS22) young song writers competition earlier this year out of 850 entries.
Grace has been writing songs since she was very young but Covid Lockdown afforded the sisters the opportunity to sit down together to start recording some of the tracks. Hannah taught herself music production from scratch and tends to focus on harmonies and instrumentation, whilst Grace is usually the
main vocalist.
Hannah says, "Our song, Sweet 16, is about the difficult teenage years. It's not uncommon for people our age to find themselves struggling at school and feeling somehow on the outside looking in so the theme really resonated with this competition and its focus on mental health challenges".
Grace adds, "Sweet 16 talks about the loneliness and self-doubt suffered by many in our age group. There is often the sense that everyone else has it all, which is often exacerbated by social media. It sometimes feels like your own life is a constant battle whilst everyone else appears to have perfect friendships, relationships, a better social life – but that's not necessarily the
reality".
The girls added, "This has been a trip of a lifetime and we have met and sung for some of the biggest names in the industry. What's more, we spent time with a lovely bunch of musicians and made some friends for life; hanging out in an environment so supportive of music and musicians has been wonderful. It has been amazing and we couldn't be more grateful for this opportunity. We are still pinching ourselves to be honest!".
The track is coming out on 20th January 2023 and they can be followed @twayntwins.
The Road to Nashville closed with a celebratory reception at the British Consulate in Nashville on World Mental Health Day (Monday, 10th October 2022) where the legendary Gary Morris entertained with his version of 'Wind Beneath My Wings'. The Mayor of Liverpool, Joanne Anderson, and Nashville Deputy Mayor, Brenda Haywood, joined hands in solidarity for the continued support and efforts of The Road to Nashville mission and its talented finalists.