Being a recipe is more than being a collection of ingredients in the same way that a song is much more than its parts and instruments. There's a comfortable familiarity in Van Arlo's melancholy ballad "Slow It Down", though not at the expense of eating someone else's dish. It would be easy to point to any of the different legs that the song stands on and call out an artist or band that you immediately attribute it to. Doing that however discounts the authenticity and emotion that Van Arlo manages to inject all by the first chorus.
I would make the argument that in 2023, on the bad side of a global pandemic and multiple global crises, all the minor chords have dried up. All the same, there's a simple reinvention of somberness hidden behind the contrast of bright arpeggios and a gloomy overcast chord progression that can only be better appreciated in each listen with "Slow It Down". It's the strings that join the song in the second verse that really put a bow on this one, however. Featuring Allan Harrell from the Cleveland Orchestra on cello, the depth achieved without overcomplicating the track is commendable. Produced by Jim Wirt ((Incubus, Hoobastank, Fiona Apple), the vocals and drums fill fantastically – both clearly and accurately. At no point do either get lost in the mix, even with the addition of romantic cello or crunchy distorted guitar.
At three minutes and thirty seconds, this song sits safely in the industry's attention span while somehow leaving a desire for another round of choruses by the end. This is in part from all of the previously mentioned ballad building blocks, but also with compelling songwriting that allows the song to grow in emotion and intensity each chorus cycle. Returning to a raw acoustic sound at the end to allow the lyrics full spotlight before dropping full instrumentation back in also drives the replayability factor.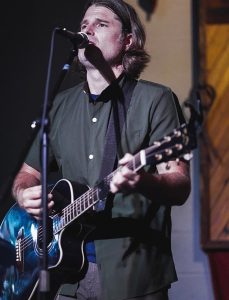 About Van Arlo:
Original acoustic-driven indie rock out of Cleveland, Ohio, and Northeast Ohio's premier acoustic cover duo.
Acoustic undertones supporting honest, introspective vocals lay the base for indie rock that's organic, raw, yet unapologetically modern. Soaring cello melodies emerge from driving electric guitar lines, hard-hitting rhythms give way to subtle percussion, gritty vocals balance edge with intrigue, and throughout it all, Van Arlo weaves a musical mix that is worth hearing.
​Van Arlo is the musical project of longtime friends and bandmates Ben Marthey and Jesse Hernandez. After having met in college, the two have built a musical partnership that has lasted years. Both are longtime staples of the Northeast Ohio music scene, performing in and leading area bands including Rosella, Top Hat Black, and Vitium.
Connect With Van Arlo:
Facebook / Instagram