6th Floor Recordz is an unsigned music label from Bedford. They work with all different kinds of genres artists from hip-hop and grime to acoustic and reggae. In November 2012 they appeared on BBC 3 Counties Radio and BBC Introducing, they've been also on local Bedford radiostation In2beats FM and the local paper "Midweek". I spoke to them about their artists and making it in Bedford.
Piotr Balkus: You describe yourself as an "unsigned music label". What does it mean? Does it mean you don't sign artists, but only promote them?
6th Floor Recordz: We do sign artists & promote them. We work very closely with the artists & producers. We make sure the sound is right to put out there & then we get to promoting all the projects.
6th Floor Recordz has a variety of artists and music styles, from hip hop to reggae. Why you decided to acommodate few different genres, instead of focusing on one particular style of music?
We decided to have different genres because it means we appeal to more people and not just 1 type of music. Which means we get heard alot more and have more options to work with.
Tell us about who is on the 6th Floor Recordz label?
We have 3 producers & 6 artists. All from Bedford. We have:
6th Floor has been producing for just under 10 years now. Does alot of work with Crossflow. He makes all kind of beats that people are after for there projects. Appeared on BBC 3 counties radio. @6thfloorcoxy
R-Time is reasonably new to the music scene. But in his short career so far has produced just over 100 tracks. He focus's mainly on hip-hop & R&B tracks. Appeared on BBC 3 counties radio. @RTime01
SoulFunky Beats was born and bread in Forest Gate, East London (Newham). Michael Grierson aka SoulFunky Beats has come through the ranks of MC to DJ to one of the well known house producers of his time. He has DJ'd in some of the most iconic clubs London has too offer (China Whites, Hippodrome & Equinox). @soulfunkybeats
N-Hance has already got 2 E.P's under his belt in the matter of 6 months ( Mind Over Matter & Broken Man) He is currently working on 2 E.P's now ( Back To Basics & Realities) plus some future projects coming up with some established artists. Also appeared on BBC 3 counties radio. @nhance8866
SubLow has been recording tracks for well over 10 years. His 1st solo E.P is going to be released in the next couple of weeks. Used to be part of a team called 2Planets & had a big feature in Hip-Hop connection magazine in 07′. @sublow6
Kimo is a rapper/singer coming from Jamaica. His flow is nothing like what is around at this moment in time. His 1st E.P with 6th Floor Recordz is currently being worked on as we speak. He has been on stage & performed with Movado, Voicemail & Assassin. @KimoJeepaz
Tucky is an acoustic singer. His 1st E.P ( Love & Struggles ) is currently available now. He is about to get in the studio & work on his 2nd E.P. Tucky also won the Bling Ya Ting finals in early 2013 & performed at the bedford oxjam festival. @tucky01
Loq is a grime artist. His hard hitting lyrics will have you wanting to hear more. His 1st E.P with 6th Floor Recordz is currently being worked on. It is highly anticipated by alot of people waiting for it. Loq has appeared on BBC radio 1 with Dj Plastician in his early days with an explosive freestyle session.  @OfficialLoq
Chelsie is the 1st female on the label. She has currently recorded a couple of tracks which have had great response & is now getting ready to start her 1st project with 6th Floor Recordz. @ChelsMcAneny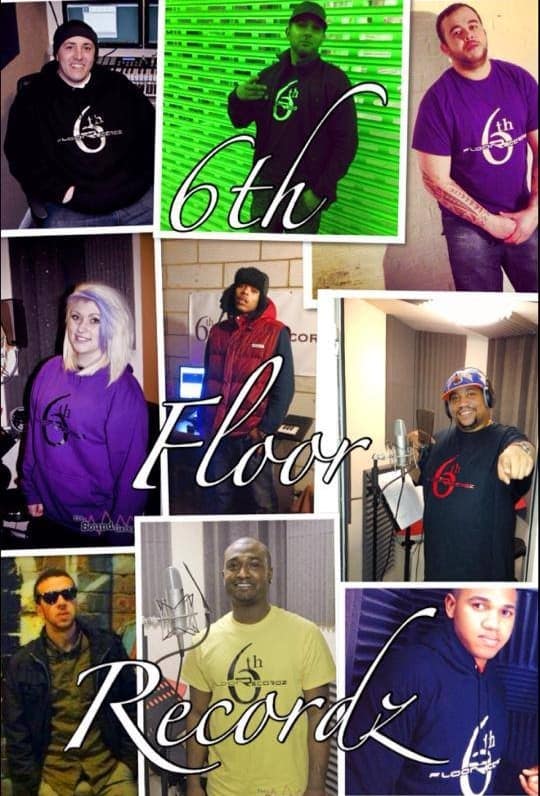 How do your artists benefit from being under 6th Floor Recordz umbrella?
They get alot of promotion & studio time. Plus their own music gets out there for people to hear.
What's the strongest point of 6th Floor Recordz?
We are a very tight group who always support what all the artists do on the label. We give each other advice when they need it & we all have a big passion for music.
Who can contact your label? What kind of contacts you would like to make?
Anybody can contact us via twitter @6thfloorrecordz or Facebook www.facebook.com/6thfloorrecordz
Are you on the lookout for new talents from Bedfordshire?
We are always on the look out for artists/producers to work/collaborate with. There is some very good talent out there & we are up for working with them.
XXI century is not the most friendly era for music labels. Some people say that artists don't need labels anymore. Some says that labels are a good representation of artists. What's your opinion on that subject?
Personally we think you do need record labels. This way you get the promotion and you get a team of people who are dedicated to you with what you want to do with your music. The music industry can be a very good place to be involved in when people are liking what you do. When there not so keen you have to take it on the chin & work on improving and get your music back to being good music again.
Are you getting some kind of support from local community or local government?
We do not receive any financial backing. We get alot of support from local radio stations (In2beats FM). Plus we perform on local events around the area of Bedford.
Are you planning any events in Bedford area or London maybe?
We are looking to do our 2nd 6th Floor Recordz night. We did 1 event last year where we had alot of local artists performing & ourselves. It had a very good response & a great turn out which is always positive. So fingers crossed we can get another event organised.
More at www.6thfloorrecordz.co.uk