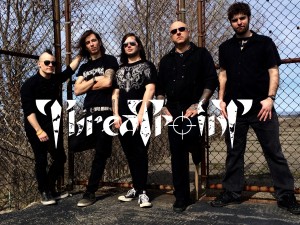 Who is answering the questions?
Hey, it's Chris James the singer…
Can you tell us about the formation of Threatpoint?

Threatpoint is a collaboration of dead bands basically. As of current it is made up of 3 dead bands. We know each other from playing out together. Alex, Cj and I sat down in 2012, and hashed out a plan of attack.
How did you get to the band name Threatpoint and what does it mean to you?

I came up with the word Threat. Cj came up with Point. From there it just grew on us. To us it means up in your face !
What's it like to be an upcoming band in Scranton, and what else can you tell us about the music scene there?

We don't really look around much. It's like we don't have time to see what we are doing. We just keep moving forward. It is always easier to see from the outside in, so we get a lot of input from folks around us. Music scene around Scranton is pretty lively. A lot of cool bands. Metal, Rock, Alternative and Country. We just did Metal Meltdown which is hosted by a local band. It's the second year for it, but it's a lot of fun. There are local bands and out of area bands. Hopefully it gets bigger and bigger.
As a metal/hard rock band, what bands have influenced you the most since starting out, and why?

Geez that's a broad question being it differs for each of us. Testament has been my favorite band since I was young. I remember seeing them on headbangers ball in the wee hours. It was Trial by Fire, it just blew me away. To this day they reign supreme for me. I love how they change every album.
Also a big Devildriver fan. They are super intense. I'm also a fan of Danny Tombs, the guy is just a great writer and vocalist.
How does a song normally come together for Threatpoint?

Either vocal melody or riffs. I play guitar just not live. So now we actually have 4 guys that can play guitar. Eric was a lead singer/guitarist of his old band, but now he's our bassist and strong back-up vocalist. And of coarse Mike and Alex whom are very talented guitarists.
With the new line-up we actually all can sit down and work thru the pieces. It's working out better than ever. Cj our drummer also help me work through vocal melodies. He just has a good ear for it. It's nice to have help when you are stumped.
Touring wise, what will you be up to this year, and what are you most excited about?

This year we are making some big strides all over the USA. Southern tour coming up and a very cool run out on the Midwest to West Coast.
Guys are pretty stoked about Vegas, and I am looking forward to the Rocky Mountains. It's so beautiful out there. We are always excited about meeting new people. The fans are everything to us. Without them we are nothing… Nothing at all !
Since the formation of Threatpoint, what's been the biggest highlight for you touring/performing wise, and why?

Sharing the stage with Stryper was pretty awesome. They were terrific guys.
What can you tell us about your most recent release?

"Careful What You Wish For", that's our latest release of 2014. Self funded, self produced. It has 14 tracks, We feel it's a definite step up from our first release. It's more technical but still loaded with groove.
It has a lot of blended styles of rock and metal. But we always write for the live experience.
Can you tell us about the inspiration behind your music?

I write about reality. About stories from people and situations. Even though it's really aggressive I like to leave a positive note to the listener.
There is hope in life. There is a way out of tough spots in life. I like to tap into my spiritual side, and shine a light in a dark place. Even though today looks pretty grim the sun will shine through it eventually!
Are you currently working on any new music? If so, how is it coming along, and what can fans expect from it?

Yes yes we are. We have many new songs written. Faster, heavier and darker is what people asked for. It's just a natural transition into that for us. Especially having Testament's "The Gathering" as my all time favorite metal album, it's a definite influence in the new direction we are headed. Yet we still focus on groove, groove n more groove ! Look out for it early 2016. With a possible single to drop before year end…
What else can we expect to see from Threatpoint in 2015?

Shows, writing, press, working on trying to find a bigger label to take us to the next level out there. Absolutely making new friends and fans. Looking into a video with our new line-up. Working on a new single to drop a peek into what we are up to.
Check us out www.threatpointofficial.com and stop by our Facebook (www.facebook.com/threatpoint) and give us a LIKE and drop us a message.