British-Chilean reggaetón artist Amber Donoso has unveiled an acoustic performance of her new single 'Candela'. In the new track, out 30th April, she continues to showcase the Latin-inspired sound that has come to define her.
In the new video, Amber's acoustic performance of 'Candela' features Javier Orobio on guitar. In a London-based studio, the duo filmed the acoustic performance.
Written from Amber's perspective, 'Candela' is contemporary and sensual. The new reggaetón single captures Amber's approach to music, and provides a glimpse of what to expect from her this year.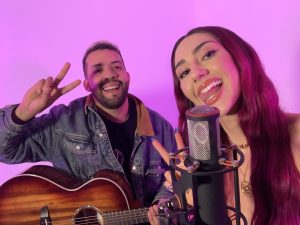 'Candela' sees Amber embrace her Latina roots while singing in Spanish over an electrifying beat. Daniel Tenorio and Ricardo Quintero produced the single, and are responsible for some of the biggest hits in pop and reggaetón over recent years.
Speaking about her new single, Amber says: "I'd say "Candela" is a perfect representation of my Latin roots. The whole track is infused with the passion and sexiness of the Latino culture."
British-born Amber travelled between London and Chile during her childhood. As a result of her mixed-upbringing, she remains influenced by the Spanish language, beats of South America and reggaetón sounds.
As a central figure in what The Guardian has dubbed "London's Latin pop explosion", she has been named as an artist to watch. People En Espanol also featured Amber as a new artist to watch last year.
'Candela' will be released on all streaming platforms on 30th April.
Follow Amber on Instagram.