Blaine Holcomb provides us with a modern country classic. "When It Comes To Love," reels us in with its 90s composition, and secures our attention with its state-of-the-art execution. This track, while nostalgic, sounds like a radio hit that will be played at cookouts, venues, and on country radio. Holcomb is influenced by major country legends like Alan Jackson and Garth Brooks, which we can hear in his music, but his own style shines through.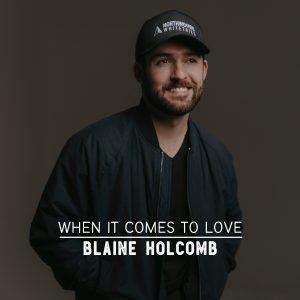 Holcomb's voice is incredibly smooth and easy to distinguish from others. His ability to capture moments and turn them into lyrics is so refreshing. His voice and lyrics feel and sound genuine, like he is singing to us personally. Holcomb gives us many examples of how things should be through his lens. But when it comes to this woman he didn't see coming, it's positively different. "When It Comes To Love" is able to keep such an upbeat attitude afloat because of its lyrics and the way that it is performed. 
"When It Comes To Love" has such a good, high-energy progression. The guitar is clean, the vocals are sharp, and the lyrics include lots of traditional country values. From trucks, to deer hunting, to finding that perfect someone at the right place, right time, this track's structure tells the perfect story and is made for easy-listening. 
Blaine Holcomb's "When It Comes To Love" is a sweet, nostalgic story that every country lover needs to add to their playlist. This song is meant for a trip to the lake, a weekend drive, a summery get-together, and so much more. It's a classic country song about professing strong feelings, and Blaine brings those lyrics to life.