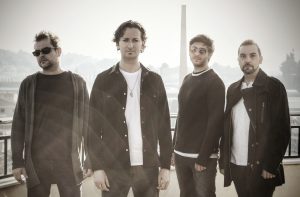 It's not often you come across a Spanish band that resonates with a British or American sound, but The Sand are doing just that. They are threading the line between old & new, rock & pop and guitar & piano. Lead singer Miguel Sand, after whom the band is named, is the driving force behind the group. He not only writes the songs but also sings, plays the guitar and plays the piano. Although the band was originally created by him too, it is now made up of Roberto Illán on bass, Joaquin Gómez on guitar and Emilio Martinez on drums.
Now the band return with their emotional new single Bad Day, which continues to pay homage to the late-nineties/early-noughties scene that shaped their sound. It's their most ambitious release to date, and the new music video depicts the rawness and vulnerability of the song.
Bad Day epitomises what The Sand are all about; the perfect balance of melancholy and powerful songs, with their ability to create intimate rock ballads from the imagination of Miguel Sand. The song's elaborate production and musical attention to detail compliments the sensitivity of the lyrics throughout. Not one to be missed!
"It is a song dedicated to the fact that you can have bad days, but remembering that there is always tomorrow, and that things can improve."
You can hear Bad Day here: https://youtu.be/P9uCJ6jLvNE or https://open.spotify.com/track/28mASLfGAMtWY4ajgwRp9h?si=78c0d97ac4164a15