767, man, that s*** got double bedrooms man
As the NBA's Sacramento Kings gear up for their pre-season tour of India, owner Vivek Ranadivé pondered the effects such a long flight may have on his team. In such a bind, there wasn't much else to do but call on hip-hop superstar Drake for some assistance.
Heeding the call, the Toronto native and all-round nice guy has proffered his $220m private Boeing 767 for the cause.
As a result, players and a few select coaches will get to travel in ultimate style and comfort aboard Air Drake for the estimated 22-hour flight to India.
"Out of consideration for the comfort of the players given the travel time required to make this historic trip to India, the Kings finalised an additional aircraft for the players and several members of the coaching staff," the team told NBC Sports California on September 27.
Now, rather than dreading a long-haul flight, the players are ready and willing to get on board.
"Drake is someone that I've met, that I know," Kings point guard, De'Aaron Fox said.
Fox also made sure to give thanks to Kings owner Ranadivé for his foresight in calling on Drake: "It's great. I want to say thank you to Vivek for pushing us to do this."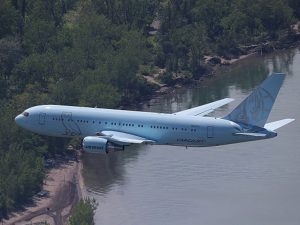 The NBA pre-season tour of India will see the Kings take on the Indiana Pacers in two games on October 4 and 5. This will be the first time NBA has been played in the country and is bound to bring in a host of new fans to the sport.
The Kings will depart from Sacramento this evening for the first leg of their trip. A brief fuel stop in London will follow before the final ten hour stretch to India.