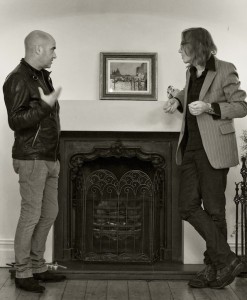 Ex OASIS guitarist Bonehead and Salford alt-pop troubadour Vinny Peculiar have joined forces in a new band project called The Parlour Flames. Their debut album will be released early next year. The collaboration of Bonehead and Vinny Peculiar has created something very special indeed and the new recordings promise to be a psychedelic, pop-rock full of eccentric British storytelling. To coincide with the release the Parlour Flames will be taking a full band out on the road for a UK tour early next year and come to Liverpool Epstein's Theatre on Saturday 9 February 2012.
Early in 2012 the pair started sketching out songs and ideas in Boneheads home studio, a couple of days a week, working up the songs. With no pressure to finish and no studio time constraints parts were refined and reinvented as they went along. The intermittent approach suited the songs allowing them to grow and change and develop.
Vinny and Bonehead have co-written and produced all the songs, playing the guitars, basses, pianos and keyboards, with Vinny singing. Dave Fyfe diligently engineered throughout, keeping everyone sweet with his double deadly donuts.
The record features Che Beresford [Badly Drawn Boy] on drums and percussion, Semay Woo on cellos, Anna Zweck [Samson & Delilah] on flute and backing vocals, Bob Marsh [Badly Drawn Boy, I Am Kloot] on trumpets & fugal horn. It's an eclectic mix of guitar-based pop with a psychedelic twist, a folk-art-rock record, lyrically different, engaging and melodic.
Parlour Flames were so named by Vinny after he caught a TV program on Victorian lifestyles, with the fire in the hearth and the extended family attentive for piano recitals and poetry readings. The FLAME as a symbol of belief, of faith is something that fans of Northern Soul know all too well. The name also scanned well and wasn't taken. People seem to have warmed to it.
Bonehead, aka Paul Arthurs, played rhythm guitar in Oasis from 1991 to 1999 and was replaced in the band by ex Heavy Stereo frontman, Gem Archer, who went on to play with Liam Gallagher in Beady Eye. He left during the recording of the band's fourth album Standing On The Shoulder Of Giants to spend more time with his family.
Since leaving the band he has been a club DJ and has presented a radio show on BBC Radio Manchester. He went on to record with Scottish singer-songwriter Pete MacLeod and playing intermittently with Manchester band The Vortex and also played in Moondog One with The Smiths' Andy Rourke and Mike Joyce.
Vinny Peculiar aka Alan Wilkes is a Manchester based singer-songwriter, recording artist and occasional poet. He's shared stages with British Sea Power, The Killers and Edwyn Collins amongst others and worked as an artist in residence with Bill Drummond. He's been in bands with members of the Smiths, Aztec Camera and the Fall. He's released seven albums of magnificently obscure pop music to considerable critical acclaim.
"There is a real cinematic feel to the songs on this album. It has piano, trumpets, fugal horn. We've got Semay Woo on cello and Anna Zweck (Samon and Deilihar) on flute and backing vocals. We are so proud of it and are itching to get out on the road and play the songs to people" says Bonehead.