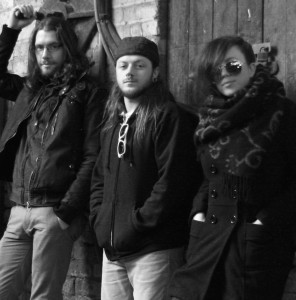 Who is answering the questions?
This is Garrett, singer and guitarist of Broken Glow.
Can you tell us about the formation of Broken Glow?
The band was originally formed in 2008. Paul (drums), Jon (vocals) and Brenner (guitar) had all gone to high school together in Connecticut, and after college they began playing old blues and rock covers. Jon met me while at college, and recruited him as a second guitarist and songwriter. After meeting twice together the group had accumulated 8 original songs, after which I moved from my native New York to join the other dudes in Connecticut. We lived in a country house in the woods about a half hour outside of Hartford, where we wrote and recorded our material and honed our live act. In 2011 after moving to Brooklyn, NY Jon left to pursue his master's degree, and I took over vocals, after which we released Watercolors. Brenner passed away in 2012 from complications of diabetes, and the band took about 6 months off to mourn and regroup. After finding ourselves in Savannah, GA, we released Live Like An Animal, which Paul and I recorded in roughly 13 hours. Soon Sara joined on bass to round the group back out and we've been rocking ever since.
How did you get to the band name Broken Glow, and what does it mean to you?
While making music together was an easy and natural process, it was fairly difficult naming the group. After months of brainstorming, we sat around together while perusing song lyrics from bands we admired. "Broken" was taken from a line in The Beatles' Across the Universe (…images of broken light), and was paired with "Glow" from Led Zeppelin's Dancing Days (…as the evenings start to glow). We never paid much attention to the meaning of the words, though over the last 8 years it's come to signify the brilliant with the flawed, the beautiful with the ugly, perhaps the dichotomous nature of man?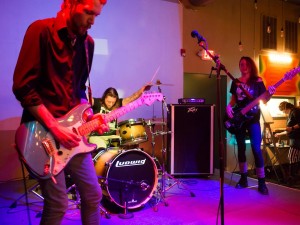 To an unfamiliar reader, how would you describe your sound?
We've generally used the descriptor of "blues rock played with a barbed wire pick." In a review of our first EP Watercolors (2011), we were described as "a love child between Led Zeppelin and Slash's solo projects." More recently, as we've embraced the group's disparate stylistic influences, our music is heavily rooted in grunge and blues rock, while displaying tinges of jazz, Eastern music, folk and metal. In general, though, our attitude and approach is that of a no-nonsense rock n roll band.
What bands have influenced you over the years, and why?
In the early days we relied heavily on bands like Aerosmith and Guns N Roses, not to mention the titans of classic rock (Led Zeppelin, Hendrix, Cream, Pink Floyd, etc.). These bands' heavy blues influence always spoke to us, and as all rock music sprouts from the root of the blues this seemed only natural to us. Heavier modern bands such as The Deftness, System of a Down, Alice In Chains and Lamb Of God also find their way into our sound in a major way. Much of this is the music of our childhood, thus it naturally permeates our musical landscape. Bits of folk music (Joni Mitchell and her use of heavily colored chords), jazz (Coltrane's improvisational freedom and Monk's intuitive compositional sense), and punk (The Clash's antagonism against authority and singable-yet-subversive musical sensibilities) also make their way into our music.
How did you get to the album title 'Filament', and what does it mean to you?
We have been working a long time to record a full length album, and Filament is the fruit of that labor. Much of the music we collectively appreciate is music written as part of an album – not simply individual songs slapped together, but a comprehensive, if not necessarily thematic, musical experience. As such, we strove to create a sampling of songs that not only stood on their own as piece of music, but that, when listened to in order as an album should be, brought the listener on a journey. Our abilities on our instruments, as well as our tastes music, have grown and expanded over the years we've been together, and as such we wanted to represent all of the various styles which influence our group. We believe that style or genre is simply the clothes that music wears, and as such there is quality throughout style. In showcasing various elements of our sound, something needed to run consistent throughout. This is where Filament comes in. The filament is the part of the light bulb which produces the actual light, and considering the band name, light bulbs have always played a visual role in representing us. Regardless of the color or shape of the bulb, the filament is the source of the light, while the other features merely shape the original source. Our intent on this album was to get at the root of what makes us continue to play. It is our true expression, our honest thoughts, feelings, and emotions in the form of organized sound. With this in mind, Filament refers to the music, the essential element that holds us together as a group. It's a reminder that no matter how fast we play, what key or scale we choose, or the lyrical content, the music stands as a testament to our goal, which is to create and express.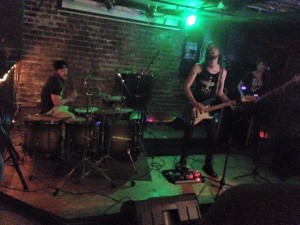 Can you elaborate on some of the other main themes and influences that run throughout 'Filament'?
While we maintain that listening to music is a subjective experience open to individual interpretation, there are obviously intents behind each of the songs. Thematically, Filament contains many elements, but as the primary songwriter and lyricist of the group, I can tell you what my thoughts are regarding its content. The album essentially is a journey through self discovery, beginning with an awakening and recognition that the current abuses of power structures and the cult of personality are a facade (Iconoclast). Following this, the next two tracks (Running Scared and Smoke) are introspective, dealing with struggles that many self-aware people deal with in the light of a harsh world (paranoia, addiction, self-doubt). The fourth track, Monk Mode, shifts tone both lyrically and musically. The term "monk mode" refers to conscious self-deprivation as a means of realization. To be more specific, no reward comes without sacrifice, and often to attain some kind of breakthrough (be it philosophical, spiritual, or material), one must forgo habits or distractions in pursuit of attaining a higher level. Fish Out Of Water, though devoid of any proper lyric, is meant to replicate the feeling of suffocation and isolation, a state often experienced by one who walks off the beaten path. The following track, Blue Dream, is of a lighter tone and is a call for brotherhood and community as a means of overcoming injustice. Next is Blister, a rollicking and somewhat silly tune whose lyrics bemoan the acquisition of a blister, only to find that in the end it has become an ally in the shape of a callous. This is both literal (callouses on a guitarists' finger aid in playing the strings), but also in a metaphorical sense, as often the greatest reward is found only after grueling and often painful work is put it. Cousin is perhaps the most somber selection on the album, a rumination on family, aging, and looking forward to life. Finally, the straight blues of Well brings the album to a close. As mentioned earlier, the wellspring of rock music is the blues, just as the necessary element to life is water. Thus it seemed fitting to write a song about drawing water from a well in the form of a blues song.
What can you tell us about the recording process for 'Filament'?
In keeping with our theme of organic expression, we went to Donald Moats of Habitat Noise Studios in Wilmington Island, GA to record on reel-to-reel tape. While digital recording techniques and software afford the engineers and musicians involved a seemingly endless list of options and tricks, it seemed fitting to use analog techniques in our attempt to capture the elemental essence of the band. Recording onto tape results in a much truer representation of the sound being produced – the sound waves are transferred in real time and space to a physical form, as opposed to digital tracking which chops the waves into tiny pieces and pastes them back together. The bulk of the tracks (all but a few minimal overdubs) were recorded live in 3 days' time with the entire band in the same room. We felt this technique was appropriate specifically because it is the way most of our favorite old albums were made. BeforeProTools and Logic afforded endless editing capabilities, musicians were required to play their own parts in real time (perhaps a shocking concept to the "millennial generation"), and endless takes were not afforded to musicians on tape which had to be physically cut if editing was necessary. As such, the great masters of old were truly proficient on their instruments, and their albums are faithful representations of their playing. While today anyone can have vocals auto-tuned or punch in guitar tracks a thousand times, we shy away from those crutches in favor of a more organic sound. There's something magical about the chemistry of a tight band, and devotees of live music know that the air moves a special way. Our goal was to capture that sound, the magic of a live band, which is why all the tracks were recorded live without a click track and without punching in. I did overlay second guitars and solos, our producer Chris added minimal guitars, and we did a bit of vocal layering after the fact (not to mention my piano part on Cousin). Those finishing touches aside, the album as you hear it is a faithful representation of our live sound. We released the album at a huge party, which was held at Southbound Brewing Company, a local brewery. We collaborated with the head brewer to create a custom beer, on tap during the event, and played alongside local rockers BBXF right on site while local radio station Rock 106.1 broadcast live from the event. Simon Ross of Planetary Projections provided a psychedelic liquid light show, and Chazito's food truck on site providing victuals. Hell of a party!
What song means the most to you from 'Filament' at the moment, and why?
That is a difficult song to answer, as we're already writing new material. Personally, Monk Mode is my favorite tune on the album. I believe it shows a side of our band we've only begun to explore, and I am currently in a "monk mode" as I abstain from intoxicants while writing new material and pursuing my personal studies in ancient mysticism and metaphysics.
What songs are you really enjoying playing live from 'Filament' at the moment, and why?
Blue Dream and Well are probably the most fun to perform live at current. The former is a real crowd pleaser, and its memorable chorus and 70's-style riff rock vibe are right in our wheelhouse. Well is fun to play, and lends itself most heavily to improvisation. I've recently been playing a weekly gig with local blues band Jubal Kane, and this song is indicative of that influence.
What was the hardest part about putting 'Filament' together for you guys, and why?
Honestly mixing was the hardest part. Well, not hardest, but most time consuming. The album was mixed by Chris Horton (producer) and myself, and it was a new experience for me. Constantly listening to the same song over and over through various speakers and in slightly different mixes is fatiguing on the ears, and it also makes you second guess yourself. When someone else mixes your album, your job is done as soon as you leave the booth. This time, however, our work had just begun. The recording was completed in August 2015, and the final mixes weren't finished until just before our release party on February 19th, 2016. That's nearly 6 months of listening, re-listening, tweaking, changing, etc. By the time the album was finished, I barely wanted to hear it anymore!
How did the artwork for 'Filament' come together, and what does it mean to you?
The front of the album contains a stylized broken lightbulb, an image which has been apart of the band's aesthetic for years. This incarnation was designed by our drummer Paul. The title of the album and track listing on the back are meant to replicate a dictionary entry, again implying the fundamental nature of the album. The band portrait on the inside was taken by our good friend Matthew Fitzgerald in our current hometown of Savannah. Producer Chris Horton appears in the portrait, as he briefly joined the band on second guitar during the mixing process. The real gem of the album art, however, is the original work by local artist Jake Schlosser. A 3-panel fold-out of a cosmic monk punching the universe, we commissioned the piece with few parameters – listen to the album and create what speaks to you. As the other panels are in greyscale, the vibrant purples on the interior artwork stand in stark contrast and make the package complete. We do our best to commission local artists for their work, and will be releasing a short-run custom t-shirt design by local illustrator or rapper Miggs Son Daddy this June.
Touring wise, can you give us a couple of personal highlights from your time on the road?
It's been a hot minute since we've taken proper tour, though we do travel out of town from time to time. Once in Hardeeville, NC we rocked so hard that the PA speaker began to smoke (not the first time)! We had a great time in our 2014 north-eastern tour as we returned to our old Connecticut stomping grounds and got to see the brief reunion of Sara's old band Chicks Throwing Bricks in Philadelphia. Our YouTube channel, though relatively sparse, contains a 12-minute tour diary entitled Miles Of Mayhem, which I compiled from over 33 hours of footage taken on the road in 2011.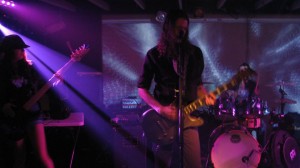 How would you say the sound of Broken Glow has grown/progressed over the years?
I think we're more open to outside influences. It seems that the early days saw us putting limitations on ourselves, concerning "what kind of songs" we should play. We didn't want to stray too far from established stylistic conventions, thus we stayed within the "riff-rock" paradigm, excepting a few outlying songs (the nihilistic jazz-chord drone Now It Can Be Told for example). Part of that may well have been a result of our skill level, which has naturally grown over the years of incessant playing and practicing. These days it feels freer, and our songs are generally the results of our free form jams, thus more organic and less calculated.
What sets you apart from any other band out there right now?
That's hard to say, as there is a lot of really interesting, original music being made below the radar of the general public. As related to heavily distributed rock bands, I'd say our message of positivity through somewhat aggressive music is signature to us. Many bands on American radio seem to embrace hate rather than love, separation rather than togetherness, confrontation rather than resolution. When we're angry, we're angry at evil shit. When we're heavy, we're groovy. It seems we have more in common philosophically with hippies than metalers, yet find more musical common ground in the opposite direction. I'd also say that our insistence on keeping all production in-house – no management ever, outsourcing of duties only to close friends and associates, self-booked, most art done by group members, – is something we hold dear to us. Just don't trust Mr. Suit & Tie…
What is the music scene like in Savannah, GA?
Eclectic. The downtown area is a heavily tourist-driven area, and much of the music there is blues and familiar tunes. The further you move away from the river, however, there the music changes. There is a thriving DIY punk scene with killer bands like Cray Bags, Tokalos and The Anxiety Junkies, metal bands like The Apprehended and Sins Of Godless Men, subversive acoustic "folk punk" musicians such as Josh Taft and Whiskey Wednesday, inventive math rock bands like CultureVulture and Kyle, groovers like XuluProphet and Kota Mundi, hip hop giants like Miggs, Basik Lee and Dope Knife… not to mention rock bands like BBXF, Coeds and Rotten Blush. A huge cahmpion of the Savannah music scene is Ryan Koch, DJ at Rock 106.1, who regularly attends and announces local shows and hosts Underexposed, a weekly music show during which he gives local groups access to the airwaves. Perhaps the coolest part of the Savannah scene is that any number of these bands can be seen on bills together, cross-genre, and the open mic at spots like The Wormhole and Barrelhouse South provide opportunities for these musicians as well as others to collaborate and mingle. It's a very social scene, which I think serves to benefit everyone involved.
What else can we expect to see from Broken Glow in 2016?
Per usual, we will be playing around Savannah here and there. August sees us in Charleston at Hybrid Audio Solutions to record a brand new single,and we're working on an event in the fall which would bring together the town's blues musicians for a showcase event. Also, hopefully, a Spinal Tap set around Halloween…
Facebook.com/BrokenGlow