Marilyn Manson has said that Justin Bieber told him that he made him "relevant again" after releasing his line of repurposed Manson merchandise.
It all began back when the pair appeared to be friends with Bieber wearing a Marilyn Manson t-shirt on stage, prompting Manson to wear a Bieber shirt of his own. Following this, Bieber began selling vintage Marilyn Manson shirts with his own name printed on them, stating the rock star had agreed to him "reinterpreting" his old tour merchandise. Keep in mind, the Bieber-Manson shirts were put on sale for nearly £$200 (£150) each.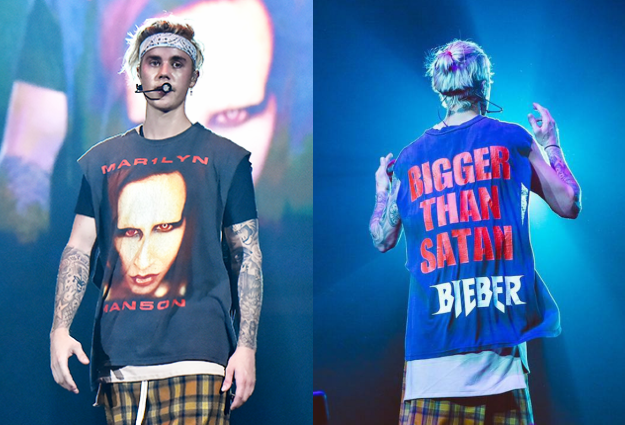 The gothic singer has now voiced his opinions in a new interview. Speaking to Consequence of Sound, Manson said that Bieber was already wearing the shirt with his name on when they first met and said, "I made you relevant again."
Manson continued: "Bad mistake to say to me. He was a real piece of shit in the way he had the arrogance to say that. He was a real touchy-feely guy, too, like, 'yo yo bro!' and touches you when he's talking. I'm like, 'you need to stand down, you're dick height on me, ok?' [laughs] 'Alright? So stand down son.'"
Although the singer claimed to have been joking, Bieber didn't realise at the time. Manson added that he "believed that I'd show up, because he was that stupid."
Following the dispute, it was reported that the 'Beautiful People' singer "took all the proceeds" from the repurposed shirts: "They didn't even fight, they were just like, 'yea, we already know, we did wrong, so here's the money.'"
Marilyn Manson recently dropped a new song on Zane Lowe's Beats 1 show titled 'We Know Where You Fucking Live'. The track is taken from the singer's new album Heaven Upside Down which is due out on 6th October. Check out the track here.