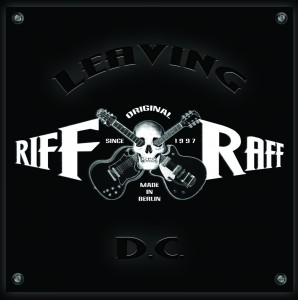 Riff Raff are far from the 'common people' definition that their name may imply.  The German five piece rock band have just released their new album, 'Leaving D.C.  The album marks the progress forward to a new stage in Riff Raff's lengthy career.
Riff Raff were previously a well known and well respected AC/DC tribute band, which is one of the fundamental reasons for the title of the album, 'Leaving D.C.' Much like their idols, the band's fast paced sound and vibe shows no sign of slowing and could see them crashing into the UK major rock scene without any apprehension.
After supporting huge bands like Whitesnake and Motorhead, Riff Raff have honed their best assets and with tracks like, 'Hail The Rockin' Man' they are brewing up a storm all across Europe. The album speaks to a wide audience of all ages, especially with their track, 'We're Only Here For The Beer' showing their natural humorous personalities.  Probably the best drinking song you will hear for many a year!  Singer Steve Betteridge (an Englishman in exile in Germany!) has a voice that can switch between melodic subtle tones to outright 'balls out' rock n roll.  This album will sit happily within any Rock fan's collection of classic rock.  Riff Raff are an example of perfect European Rock unity with the four Germans and one Englishman combining to bring you pure Rock N Roll joy!
Riff Raff's new album 'Leaving D.C.' is available now.
'Hail the Rockin' Man' – Video
For any interviews or media requests please contact Ellis on north1@quitegreatmusicpr.co.uk or call 01422 399430