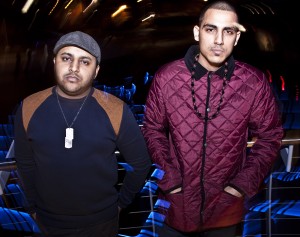 London based DJ Rix and hip-hop star AK present their Money Clothing-sponsored new single, 'Hands In The Air'.
Raised in Coventry, DJ Rix is heavily influenced by House & Electronica music and originally stepped into the scene when he started DJ'ing in clubs at just 13 years-old. By the age of 18, he had enrolled at the Award Winning Point Blank Music College in London, where he completed a two year course studying music production, expanding his knowledge of production skills and music theory.
Having supported major acts such as Jagged Edge, Tim Westwood, Artful Dodger, Judge Jules, Boy George, Masters at Work and Carl Cox in the past as a DJ, Rix (real name Ricky Dewitt), has taken a step back from the live DJing scene and spent the last two years building his own studio and crafting a club friendly, house-heavy sound unique to himself.
AK, real name Anil Kholi, started venturing into the music industry by organising his own events & raves in the Midlands. With an established name in his home town of Coventry, Anil has proven to sell out venues with his success. He has always had a passion for music, varying his styles to develop himself as an artist who can work on all levels. In 2010 he met Rix through a mutual friend, and ever since the pair have been working hard in the studio whilst trying push new and fresh music out from their hometown.
[youtube id="bWZcr3jGUzQ" width="600″ height="350″]