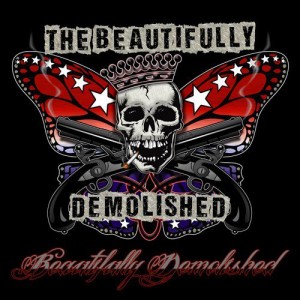 Could you do with an injection of fist pumping, action packed feel good rock n roll with adrenaline pumping beats, sleazy lyrics and a bad-ass attitude?!
Formed in the spring of 2011 by D.K. REVELLE, in Los Angeles California, The Beautifully Demolished take you back in time with influences from the greats such as Motley Crue, Kiss and Aerosmith.
Want a taste of The Beautifully Demolished? Their first self-titled EP has just released from HIGHVOLMUSIC, which includes three tracks: Beautifully Demolished, Heart Tattoo and Rock Scars.  Passionate and eccentric front man DK Revelle sheds light on the influences behind the music, touring plans and staying out of jail!
Can you describe to our readership your sound and possibly what they could compare you to?
The TBD sound is quite ORIGINAL *Big Hooky, Sin-Eatin', Ass Shakin, Goodtime, Rock n roll* with a modern vibe. Influences include vintage Aerosmith, GnR, AC/DC, Crüe, and Kiss.
Your currently recording your debut album, how has this been for you and when can we expect its release?
Goin GREAT! I do the writing and lately I've been writing & demoing my ASS OFF. So much KILLER material and great ideas here in my studio. It's EXCITING!! Can't wait for Ya'll to enjoy it! Stay posted –
Do you think TV Talent shows have to an extent damaged the real music scene?
Well…  In my opinion, The T.V. shows for the most part seem to offer a "short cut" to fame. Where most of us have mileage and years of payin' dues. But there are the exceptions whom have been doin' the scene & audition for a show & get discovered. That's great, more power to them.
Personally when I see a band with spandex, leather and some serious backcombing I know I must be onto something good! I think you tick all the box's, are you fans of the good old fashioned glam and melodic rock?
Those were the bands I Grew up with and partied to…..made memories to, etc. In my opinion the FUNNIEST TIME in Rock n Roll. There was MAGIC in the 80s!!
Loved it.
Have you got any plans to tour the UK?
If you ask ME…I've got plans to PLAY ON THE MOON! But we'll see, LoL. But no, no U.K. dates yet. But plan on going EVERYWHERE in the future.
Stay posted 😉
How would you compare the rock music scene in the states to that of the UK?
Haven't toured the U.K. But I've toured 7 countries in Europe and they fuckin love sum Rock n Metal!
Trashed any hotel rooms yet? Or planning to?
Sshhhh….Pleading the 5th…
Who are your Rock N Roll hero's?
Bon Scott, Steven Tyler, Axl, David Lee Roth Paul Stanley, Elvis.. Etc.
Front men / Entertainers! And on the song writing side too many too mention…I LOVE so much Stuff.
Proudest moment as a band to date?
Staying outta jail last weekend at the … *SPRING STAMPEDE/ House of Rock White Marsh, Maryland. LOL!
Stay Posted…
Facebook.com/thebeautifullydemolished
[youtube id="XVucfkSrZ40″ width="600″ height="350″]