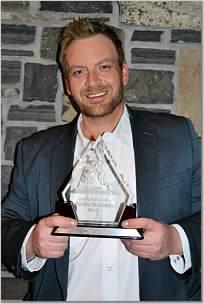 Will Ardell grew up on a farm in Rock Point, Saskatchewan, amidst a strict, religious, and modest upbringing. Will began writing poetry at a young age, placing first in a national competition and later placing internationally in his teens. Because of the confines of the religious culture in which Will was raised, he did not learn to play guitar until he was 19 years of age. From that point on, he began writing… furiously, rebelliously, and relentlessly at times… and has penned over 500 songs to date, in all styles and genres.
Will's powerful and immediately recognizable voice is a testament to the expression of art, to the yearning in all of us to be heard above the din of our surroundings. His lyrics are raw and authentic, from an experience truly his own. Armed with so many songs, and an unforgettable sound, Will is turning heads locally and abroad, bringing his personal brand of entertainment to the big stage.
In the late spring of 2009, Will began recording his songs at home and posting them online for listeners to enjoy. The reaction was phenomenal! Soon he was being asked by hundreds of people where they could purchase his music, and since Will had never recorded in a professional studio, he burned the discs he had recorded on his digital recorder and sold about 1500 copies to fans locally and around the globe from New York, Mexico, and even Australia.
Late 2010, Will performed his originals as part of the Southwest Saskatchewan Country Music Association Tour. It was through this continued networking that Will made connections with Nashville producer-guitarist extraordinaire – Steve Rutledge. Later that year, July 2011, Will boarded a plane to Nashville and spent two weeks in the studio recording the tracks for his upcoming album.
Will is also co-founder, and part-owner of Rock Point Records Ltd, and is currently working with other artists on both sides of the border to expand musical horizons, and to develop an intense, real, brand of songwriting, vocals and artistry to the masses.
Will solely penned all the songs on "All About the Ride/Leavin'" (with exception of one co-written track). This debut country/rock album is slated for release March 1st, 2012 and has already been generating buzz on both sides of the 49th parallel. For Saskatchewan's Will Ardell, this is only the beginning.
[youtube id="XZJaBhNXp24″ width="600″ height="350″]
"Two Shadows" teases Ardell's upcoming sophomore album, following 2012's "All About the Ride" on indie Rockpoint Music. That collection set the stage, with five Saskatchewan CMA Awards nominations—including Album, Song, Video and Male Vocalist of the Year—and a win for Ardell as 2012's Rising Star. Add to that "Two Shadows" burgeoning airplay on nearly 40 Canadian radio outlets—alongside the artist's innate songwriting, melodic and vocal prowess—and stand ready for Will Ardell's imminent launch into the light of mainstream success.
—CT
Entertainment journalist Chuck Taylor worked for more than a decade at Billboard magazine as a Senior Editor/Writer and Single Reviews Editor.
Website: www.willardell.com
Facebook: www.facebook.com/willardell
Twitter: @WillArdell
iTunes: https://itunes.apple.com/us/album/all-about-the-ride/id508602782