Award-winning music producer and multi-instrumentalist Julyo has officially been invited by the Recording Academy to join as a voting member. Italian musician Julyo was among the over 2000 individuals who received invitations to become a voting member of the Recording Academy.
Being invited as a voting member of the Recording Academy requires referrals from music business professionals and music peers, a process that the Recording Academy has been updating and developed over the past few years to allow a more diverse community of members across the world.
While the new members have until July 12 to accept the invite, Julyo revealed he is now a member, which means he has accepted the invite:
https://twitter.com/JulyoMusic/status/1542079273409863683
The Recording Academy, in a tweet via its Twitter handle, wrote:
"Congratulations to the 2,700+ music professionals from wide-ranging backgrounds, genres, and disciplines, who received a membership invitation from the #RecordingAcademy. "
See the post below:
https://twitter.com/RecordingAcad/status/1541917092982624256
This comes as Julyo was among the over 2000 individuals across the world who received an invite to become a voting member of the Recording Academy. A report via Yahoo revealed that those invited have until July 12 to accept their invitations if they are to vote for the 65th annual Grammy Awards.
Julyo has been active both as a multi-instrumentalist and producer since the mid-1990s. A prominent figure in the underground music scene of his native town Genoa, Julyo has been a renowned exponent of instrumental pop and experimental electronic music since his first debut in 1996 with the independently released CD "Versus."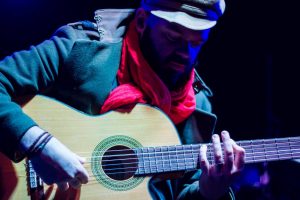 After studying classical guitar with Japanese guitar player Katsumi Nagaoka and touring in North Europe with local rock bands between 1998 and 1999, Julyo has consolidated his name in various underground scenes. From the Brooklyn hipster scene to the Tokyo rave music scene, Julyo has constantly produced, performed, and released music in multiple genres, from jazz to techno to folk.
Julyo has worked and collaborated with international artists and brands worldwide, including Laurence Gartel, Take That, Paco de Lucía, Michael Brecker, Louis Vuitton, Dolce & Gabbana, MusicCares, Paulo Bragança, Mika Nakashima, Chris Birkett, Jonathan Mover, and many more.
Currently involved in several ghost productions, Julyo is also working on an EP of instrumental covers of classic rock songs, a tribute to the beginning, when he was growing both artistically and personally as a session player during the mid-90s.