Marilyn Manson has shared the text messages Justin Bieber reportedly sent him after calling him a "piece of shit".
It emerged last week that Bieber had told Manson that he made him "relevant again" with his new line of repurposed Manson inspired t-shirts. Speaking of the conversation between himself an the 'Sorry' singer, Manson said: "He was a real piece of shit in the way he had the arrogance to say that." See the t-shirts below.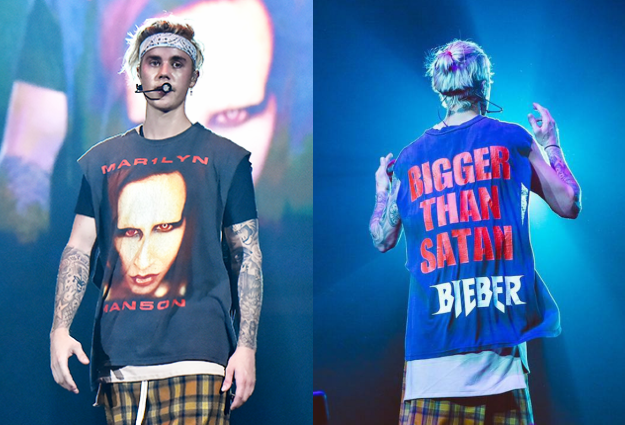 Now, speaking to Howard Stern on SiriusXM, the rock singer has revealed that Bieber got in contact with him via text following the news headlines about their interaction.
"Bro, it's Bieber what's up with that article? I thought we had a pretty pleasant interaction. Also, if anything wasn't squared away with the T-shirts I'm so sorry," the singer explained in a text.
Another text added: "Anyway, regardless, it kind of stung seeing that if I came off as an asshole or was just an asshole I'm sorry."
Manson told Stern that he replied stating his initial comments had been "exaggerated", adding: "You were just you being you. No beef here. I just said 'you were just being you,' which could mean you're just being an asshole, or whatever."
Bieber supposedly came back stating: "Honestly, I totally thought we hit it off. Again, my bad, if I was an asshole that wasn't my intention. Just want you to know that."
Following the whole issue the goth star has said: "We are cool. People just made that shirt stuff into a fake feud. Let's turn it upside-down and fuck the press and do something together. It will be the best. And don't apologise, you weren't an asshole. They asked if you were and I sort of agreed. I wasn't out to get you."
Manson also said he promised Bieber not to "shit talk" him on Stern's show, to which Bieber allegedly replied: "Well thanks, LOL".
Heaven Upside Down, the new album from Marilyn Manson, is set to drop on 6th of October and will mark his tenth studio album. Listen to a new track, 'We Know Where You Fucking Live', here.